We specialise in website, application and software development in the Civil Engineering, Logistics, and Tracking/Location industries. Our work is not exclusive to these areas and we have worked with clients from across the board. To see our hardware device first click here
Please get in touch to discuss.
Track what vehicle operator is using for accountability.
Please get in touch to discuss.
Fleet utilisation (Idle hours distance travelled etc)

Full customisation of system access for individual users
Please get in touch to discuss.
Basic tracking options plus:

Most advanced servicing tool available

Full integration with NZTA – RUCs, Regs, Wofs etc
Please get in touch to discuss.
Advanced options plus:

Touch panel user interface

Tracking of low cost items (Bluetooth Beacons)

Per month per item tracked (ie only charged when installed and operating) Integration of Eroads trackers month for Eroads trackers tracking in M5

Accurate and Customisable
M5000 is a tracking system. It gathers GPS location and inputs from your assets and uploads them to the cloud through cellular networks.
M5000 can be configured to collect input data from any vehicle type. For instance, if M5000 is installed to a road sweeper, it can be customised to read whether the broom is activated or not.
After information is uploaded and processed in the cloud, you can see details of each input based on time and location. This will help you understand whether an asset is utilised effectively so that you can optimize your asset allocation to maximise overall efficiency based on the information the M5000 has collected.
The sweeping data can also integrate with RAMM.
Ports: x1 CAN, x1 UART x3 Digital Inputs Dual SIM, Vodafone+Spark 2.8AH Battery
* Approx 5 days of power.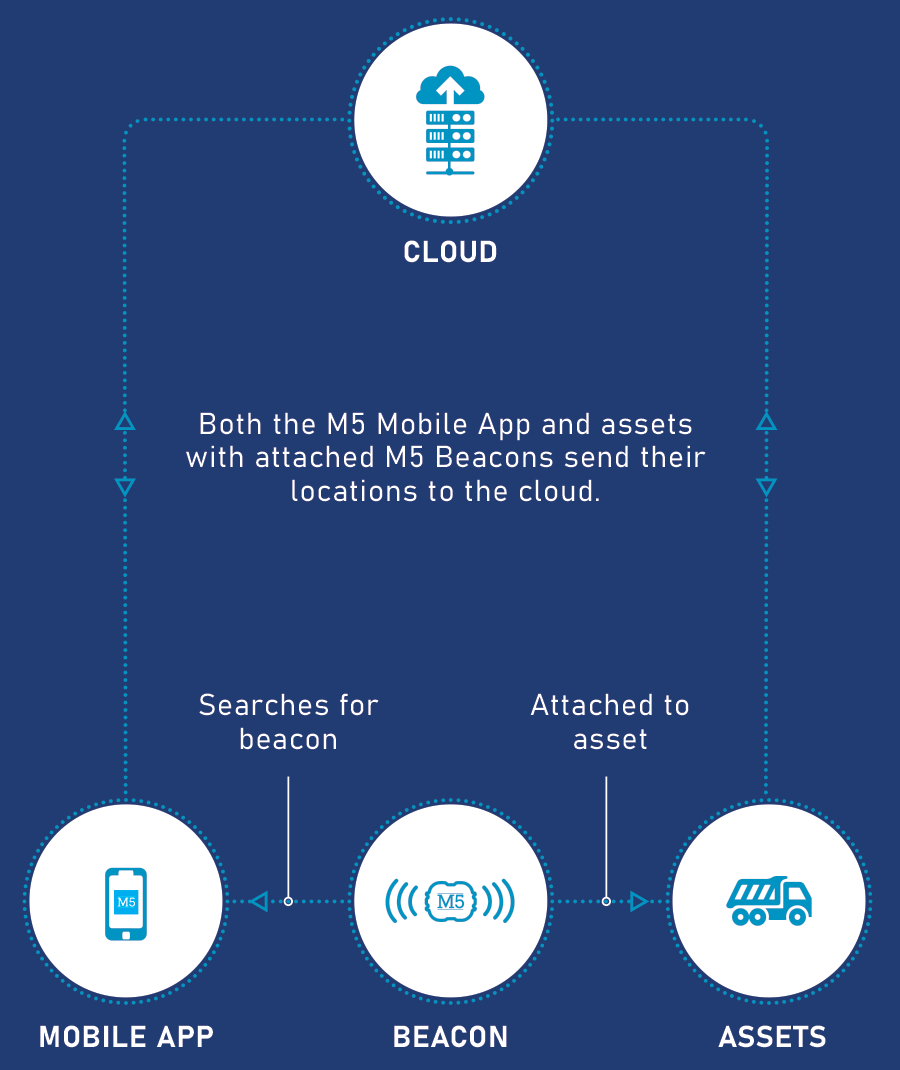 Keep your assets in sight
M5 Beacon provides you a cost-effective solution for tracking assets with no connectivity to power.
By broadcasting through Bluetooth Low Energy technology, our existing network of tackers are able to locate your assets.
These compact devices are waterproof and long life and perfect for mounting on small portable assets that are exposed to mother nature.
It can be easily configured with our mobile app. Once it is being discovered, the current location of the beacon will be sent to the cloud.
Battery life: 5 years Waterproof: To 1m Range: 30m (line of sight)*
*Range can vary depending on location of units.